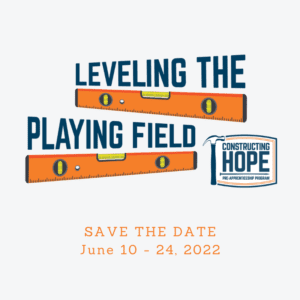 How Constructing Hope is Leveling the Playing Field
How Constructing Hope is Leveling the Playing Field
Constructing Hope provides a chance for low-income, recently returning citizens, people of color and unemployed people to have an opportunity to play in the construction industry. Through the training, certifications, backing and support our program provides; our graduates have a leg up when they enter the apprentice realm, setting them up for success.
For recently returning citizens and people of color, we are simply Leveling the Playing Field. DOUBLE YOUR IMPACT TODAY! Thanks to a generous matching challenge from Glenn Dahl, all donations will be matched, up to $25,000!
Your Support is Needed Now More Than Ever!
The construction industry is facing a shortage of skilled tradespeople. In fact, construction has the highest share of difficult-to-fill jobs (85%) of any sector in Oregon. The pandemic is expected to exacerbate the shortage of skilled tradespeople and apprenticeship candidates. The need for programs like Constructing Hope are more important than ever. We are helping to train the future workforce, while also building diversity in the industry.
In addition, there is work to do around retaining tradespeople of color. The retention rate for all apprentices is 50%. The retention rate for minority apprentices is 20%. The retention rate for Constructing Hope graduates who go on to apprenticeship is 47%. The support services that we provide our graduates include career placement and advancement support, mentorship, assistance with getting a drivers license, and more, and attribute to our higher retention rate. This speaks to the continued value of our program, and the role we play in Leveling the Playing Field in the construction industry.
NOW is the time to Level the Playing Field in the construction industry and give people of all backgrounds a chance at a true career that pays a living wage.
Help Us Continue Changing Lives and Putting People to Work.
Will You Help Us Level the Playing Field?
Three Ways to Get Involved
Three Ways to Get Involved
Donate Now
When you give to Constructing Hope, your contribution benefits our students, their families and our community. Your investment supports our work to Level the Playing Field in the construction industry.
Join the Hope Society
The Hope Society is a group of our most committed supporters. Hope Society members make automatic donations every month, which makes it easier for Constructing Hope to plan long-term, budget more efficiently and create more life-changing outcomes.
Create a Fundraiser
Personal fundraising pages are an easy way to rally your friends, family and colleagues to join you in supporting Constructing Hope's mission to rebuild the lives of people in our community through pre-apprenticeship training and career placement in the construction industry. Constructing Hope offers a secure, online platform to harness the generous giving power of your personal and professional network and change lives.
For more information please contact CourtneyJ@constructinghope.org
Stories of Hope
Stories of Hope
Constructing Hope is so honored to be a part of our graduates' stories. These four individuals each overcame obstacles and barriers with determination, hard-work and commitment. We are proud to share each of their "Stories of Hope."
Spring 2015 Graduate
Prior to Constructing Hope, Edward didn't really have a plan for the future. He wasn't always obeying the law and found himself in quite a bit of trouble. After being released from incarceration and with a felony background the only jobs he could find paid minimum wage, which wasn't enough to make ends meet.
Finding Constructing Hope played a huge role in providing Edward with a second chance, and an opportunity to create a life he is proud of. The training, experience and certifications he received during his pre-apprenticeship with Constructing Hope were critical in his ability to be able to make better wages and a better living. After completing his Pre-Apprenticeship Training in Spring of 2015, Edward got into the Ironworkers Local 29 Apprenticeship program, setting him up for a true career making a good, livable wage.
Edward shares that Constructing Hope helped to Level the Playing Field for him by making his felonies and past history not as relevant, because of the training and experience he brought into the workforce.
Six years later, Edward now has a true career, making a good, livable wage. He has completed his Apprenticeship and is now a Journeyman Ironworker with Local 29. His stable career has also made it possible for Edward to purchase his first home.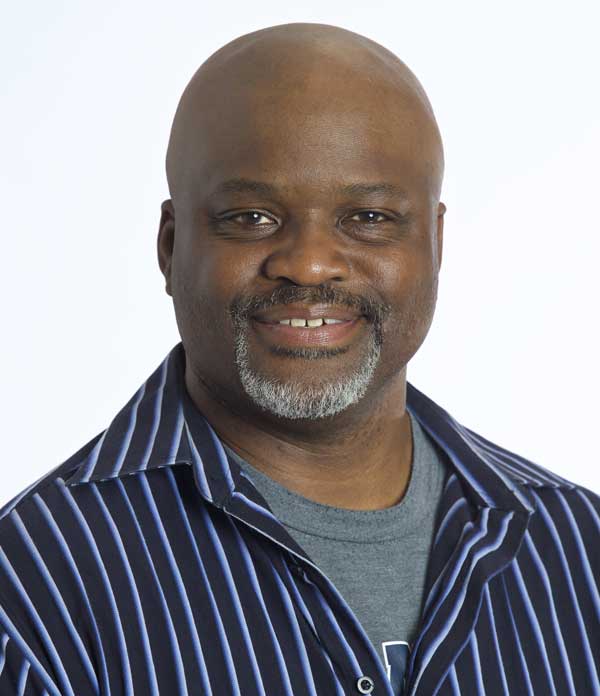 Flashback to early 2017. Lawrence found himself jobless, borderline homeless and overall not a happy dude. He jumped from job to job when he could get them, and just tried to get from one day to the next.
Lawrence ended up learning about Constructing Hope by complete chance. His son had attended a job fair and accidentally dropped a pamphlet about Constructing Hope on the ground. As parents do, Lawrence was cleaning up after his son and took a look at it. He thought Constructing Hope sounded like something worth looking into, so he did just that.
Constructing Hope has Leveled the Playing Field for Lawrence in countless ways. His pre-apprenticeship training has provided him with the skills and support he needed to land in a fruitful career making a livable wage. He is now beginning his 4th term as a Sheetmetal Apprentice; a 5-term program. He is looking forward to journeying out.
Lawrence shares that Constructing Hope has made possible a 5 year raise that has blown his mind. The program has allowed Lawrence to look at things he hadn't even considered prior to his pre-apprenticeship training. The proud father of 5 children, he's now been able to take family trips and do some really cool projects with his kids. He can now afford to have his own place without the need for roommates and afford his own car. He is even looking forward to buying his own home. Lawrence shares that "Constructing Hope has allowed me to see that horizon."
Martial arts has been a life-long passion for Lawrence. Inspired by all that Constructing Hope has given back to him, he now is giving back to his martial arts community as a youth instructor.
We are so happy to see the huge smile on Lawrence's face today. We are proud to be a part of his story and transformation from a self-proclaimed "not happy dude" to a successful Sheetmetal Apprentice, father and martial arts leader.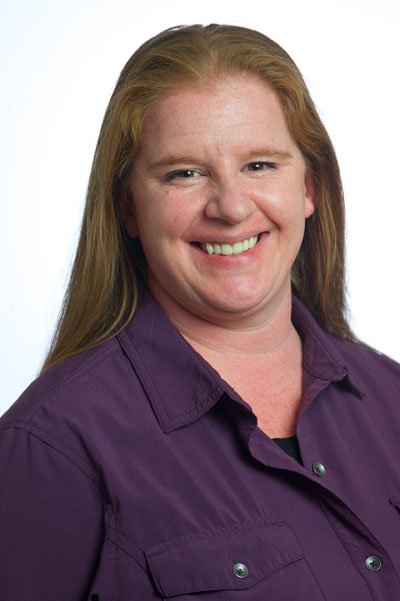 Winter 2015 Graduate
Jani Turner had opportunities growing up. She took those opportunities for granted. Her parents had all but given up on her. After losing her daughters twice to the system, due to her addiction, her parents fought to keep them. It was then that Jani learned how hard one has to fight for what they believe. She didn't believe she deserved them, but she believed that they deserved to know she loved them enough to fight. That was the moment that Jani learned what she was made of.
When she came into Constructing Hope, Jani was fresh out of treatment for her addiction and looking to change her life. A friend told her about Constructing Hope and she thought it sounded like the perfect opportunity to leave her past behind her and create a new life for her family.
During her Pre-Apprenticeship Training Jani faced challenges, but she didn't let them stop her. She actually ended up homeless, but still made it a priority to show up early every day of training, even when it meant taking 2 or 3 buses to get there early in the morning. Her commitment paid off, and she graduated Tier 1. Jani discovered her passion at Constructing Hope. She loves to work hard, and she loves to joke around – the perfect match for a career in the trades! She had determination and work ethic.
Jani planned on becoming an electrician because she was good at math and the pay was great. But the electrical apprenticeship wasn't open for application when she graduated, so she went a different route. She now shares that was by design of her higher power. She chose to pursue an apprenticeship with LiUNA Local 737. She chose laborers because they are the first trade on a jobsite, and the last to leave at the end of the project. The work also consists of varied tasks each day.
Jani hasn't regretted the decision a day in her career. She loves to muck concrete. She loves sweating and laughing, and watching her work become a testament. She loves being a card-carrying member of LiUNA. Her plan was to work in the field for 10-20 years until her body couldn't labor anymore, before going to the hall… but opportunity came knocking sooner for Jani, and something she'd heard at conferences and leadership events stuck with her.
Statistically speaking it takes a woman 7 offers of promotion or advancement before she believes she is worthy or capable of accepting. And, statistically speaking, it takes a man 1 time, whether he's qualified for the job or not. He will try and go for it. So after the 3rd or 4th suggestion that she submit her resume for a promotion, she decided it was time. Six years after starting her apprenticeship, Jani began her new position as Apprenticeship Coordinator for OSILETT: Oregon and Southern Idaho Laborers-Employers Training Trust. In her role she has a chance to give back, and show others they can overcome obstacles and barriers just like she did. She is proud to show her daughters that there is nothing stopping them. As she shared recently at a Constructing Hope graduation ceremony, "If you can imagine it, you can create it."
Jani's family has been reunited, she purchased a home and continues to thrive in her career. Her story is a true Story of Hope, and we are so proud of all she's accomplished.
Fall 2013 Graduate
A native of Jamaica, love brought Veral to the United States. He and his now-wife met when she was on a trip to Jamaica.
After moving to Portland, Veral was looking for employment when his wife introduced him to her friend Pat Daniels. Veral had been doing similar work in Jamaica and thought that Constructing Hope was the perfect opportunity to get his foot in the door and set himself up for a true career to support their blended family.
Veral excelled in the pre-apprenticeship training program, graduating Tier 1. During the class he found a passion for carpentry work. Upon graduation he was accepted into the Northwest Carpenters Union Apprenticeship and began work at Hoffman Construction.
Eight years later, Veral has completed his apprenticeship and is a Journeyman Carpenter. He is still working at Hoffman Construction, currently on the Portland International Airport project. He isn't done yet though – Veral has a goal of continuing to advance into leadership. Constructing Hope has been by his side, helping to navigate each step along the way.
Veral shared recently that a good start helps to determine the finish, and he considers himself a product of that, thanks to Constructing Hope.