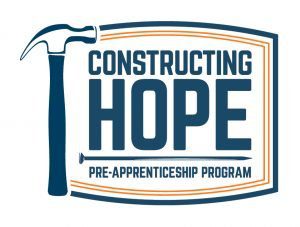 JOB DESCRIPTION
EXECUTIVE ASSISTANT (PT)
COMPANY OVERVIEW
Constructing Hope's mission is to rebuild the lives of people in our community by encouraging self-sufficiency through skills training and education in the construction industry. We provide no-cost, ten-week construction training programs, placement services, and career advancement support. We serve underrepresented populations, such as people coming from incarceration, and low-income adults. A youth summer camp provides skills, motivation, and construction career pathways. Constructing Hope's goals are to:
(1) Help the long-term unemployed attain sustainable careers,
(2) Increase workforce diversity,
(3) Reduce recidivism, and
(4) Meet hiring needs in the construction industry
THE POSITION
The Executive Assistant position is an integral part of the Constructing Hope Pre-Apprenticeship Program team and is responsible for assisting the Executive Director, Executive Team and supporting the integral aspects of the program.
ROLES & RESPONSIBILITIES
Assist Executive Director with email organization and management
Calendar Management & Scheduling – Schedule meetings for Executive Director with internal staff, external partners and other community leaders. Schedule donor and sponsor meetings for the Executive Team.
Data Entry – Donation and management systems
Thank You Programs – Facilitate recognition process for donors including acknowledgement letters, phone calls and gifts
Writing – Update various donation letters monthly to include that month's Story of Hope graduate, meeting minutes and other written materials as needed
Administrative & Reporting – Assist with reporting in conjunction with funded training programs, grants and/or other program reporting requirements, on a monthly, quarterly, or yearly basis.
Program Coordination & Events – Assist in helping the team organize events
SKILLS/EXPERIENCE
Attention to detail
Professionalism
Comfortable working with a variety of people (ie. Students to a CEO)
Relationship Building – create long-term relationships with stakeholders
Computer – Electronic data management of systes such as Google drive, Apricot, Microsoft Word, Excel, Constant Contact, DonorPerfect database
Time-management skills for juggling numerous time-sensitive projects simultaneously
Experience working in or with construction trades
MINIMUM QUALIFICATIONS
3-5 years of Executive Assistant Experience Desirable
College Degree Desirable
ADDITIONAL REQUIREMENTS
Ability to pass a drug screening test and criminal background check prior to employment.
HOURS & COMPENSATION
Pay range  is $20/hour – $24/hour, depending on experience, 20-25 hrs/week.
Application Deadline: May 28, 2021
How to Apply: Please email resume, cover letter and any references to [email protected].
Constructing Hope is proud to be an equal opportunity employer. We are committed to an environment that welcomes and supports diversity. We seek diversity of identity, perspective, and background in our staff, board and volunteers. We strive to reflect the diversity of our community and the population we serve.
Constructing Hope is an EEP and Substance Free Workplace.