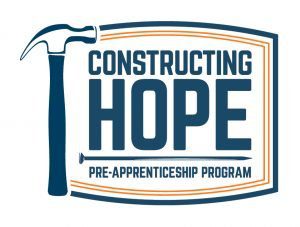 Position: Grant Contracts Manager
Starting Pay: $38.50  40 hrs/week with full benefits
Deadline: September 1, 2022
PROGRAM DESCRIPTION
Constructing Hope's mission is to rebuild the lives of people in our community by encouraging self-sufficiency through skills training and education in the construction industry. We provide no-cost, ten-week construction training programs, placement services, and career advancement support. We serve minorities, people coming from incarceration, and low-income adults. A youth summer camp provides skills, motivation, and construction career pathways.
Constructing Hope's goals are to:
Help the long-term unemployed attain sustainable careers,
Increase workforce diversity,
Reduce recidivism, and
Meet hiring needs in the construction industry.
What We're Looking For                                                                                                                                                                           
The Grant Contracts Manager position is an integral part of the Constructing Hope Pre-Apprentice Program growth and development. This position is responsible for coordinating contracts and agreements between government agencies and workforce development partners regarding payment processing, fund management, and candidate coordination. This position manages grant projects that occur in collaboration with multiple partner agencies, requiring flexibility and diplomacy. This position is responsible for coordinating all aspects of the grant projects, from reviewing and approving contract terms to coordinating deadlines, attending partner meetings, approving budgets and maintaining open communication with the finance team
RESPONSIBILITIES INCLUDE
Strategic Planning – Collaborate with the Executive Director and Director of Finance and Operations to establish grant priorities and long-term organizational goals.
Contract Management – Thoroughly review contracts and grant agreements, ensuring compliance with external requirements and internal policies.
Funding Collaboration – Coordinate with the Director of Development on funding aspects of grant proposals and application requirements as needed.
Financial Data Management – Develop project budget, track payment activity, and monitor progress in online systems (Apricot).
Administrative & Reporting – Capture metrics for tracking and monitoring of program activity; produce a variety of reports in conjunction with funded training programs, grants stipulations, and/or other program reporting requirements.
Other related projects as needed or assigned.
REQUIRED QUALIFICATIONS
Applicants Must Have:
2+ years experience managing grant agreements or business contracts.
2+ years experience with financial management, budgeting, or accounting.
1+ years managing programs that collaborate with multiple stakeholders.
Strong interpersonal communication, respectful customer service and phone skills, and professional relationship building with partners.
Excellent writing skills with the ability to detail narratives, attend stakeholder meetings and take notes, document progress on initiatives, and create detailed reports in compliance with funding guidelines.
Ability to manage occasional high-pressure situations and participate in successful negotiations between vendors.
Experience or ability to learn Microsoft SharePoint, Google drive, Apricot, and Microsoft , DonorPerfect.
Associate's or Bachelor's degree, preferably with a major in business or finance.
2+ years experience working with non-profit organizations or government programs.
Ability to pass a criminal background check prior to employment.
HOURS & COMPENSATION
Pay range is $38.50/hour, DOE and benefits after 30 days.
40 hours/week – 7am – 4pm.
BENEFITS
Constructing Hope offers an excellent benefit package including: fully-paid medical, dental & vision insurance. 401k with employer match
TO APPLY
Please send your resume and cover letter indicating how you meet the Minimum Qualifications listed above to: careers@constructinghope.org
Please note:  We are a drug-free program.  If you are offered the job, you will be asked to have a drug screening test or other testing procedures as necessary for completion of the hiring process.
Constructing Hope is proud to be an equal opportunity employer. We are committed to an environment that welcomes and supports diversity. We seek diversity of identity, perspective, and background in our staff, board and volunteers. We strive to reflect the diversity of our community and the population we serve. 
Constructing Hope is an EEP and Substance Free Workplace