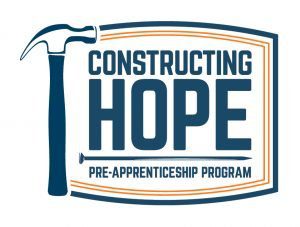 Position: Green Workforce Partnerships Manager
Starting Pay: $35.00 – $39.00/hour, DOE 40 hrs/week with full benefits
Deadline: September 1, 2022
PROGRAM DESCRIPTION
Constructing Hope's mission is to rebuild the lives of people in our community by encouraging self-sufficiency through skills training and education in the construction industry. We provide no-cost, ten-week construction training programs, placement services, and career advancement support. We serve minorities, people coming from incarceration, and low-income adults. A youth summer camp provides skills, motivation, and construction career pathways.
Constructing Hope's goals are to:
Help the long-term unemployed attain sustainable careers,
Increase workforce diversity,
Reduce recidivism, and
Meet hiring needs in the construction industry.
What We're Looking For                                                                                                                                                                           
The Green Workforce Partnerships Manager will support Constructing Hope (CH) in developing career pathways that increase and support participation of people of color, women, recently returning individuals, and low-income Portland residents in the skilled construction trades as they relate to clean energy, energy efficiency, and green building projects. We're seeking someone who is motivated to work on Constructing Hope projects under the pioneering and nationally-recognized Portland Clean Energy Fund (PCEF) program and is adept at developing key partnerships that will further this work. You will apply your excellent communication, organization and relationship-building skills to help expand and develop green career pathways and work in close partnership with The Portland Pre-Apprenticeship Training Program Consortium (PATP). You will collaborate with the four PATP partners — Constructing Hope, Portland Opportunities Industrialization Center, Oregon Tradeswomen, and Portland YouthBuilders — that are the sole agencies in the Portland metro area that are licensed by the Oregon Bureau Of Labor and Industries (BOLI) to provide construction pre-apprenticeship training, as well as Constructing Hope's green/clean energy partners at Earth Advantage and the Oregon Solar Energy Education Fund.
RESPONSIBILITIES INCLUDE
Facilitate and lead the PATP in developing plans for trainings, credentials, apprenticeships, employer engagement, and small business development promoting clean energy career pathways for people of color, low-income residents, women, and individuals coming from the criminal justice system in Portland.
Support, maintain and grow partner relationships and engage green/clean energy partners, apprenticeship centers, construction contractors, community organizations, government agencies, and skilled tradespeople in program development.
Manage green training deliveries and events that result in successful outcomes and employer engagement opportunities.
Organize and lead advisory councils comprised of construction contractors and industry stakeholders.
Research, develop and analyze data and anecdotal evidence to assess employment opportunities, existing and potential trainings and credentials, participant barriers, and future industry needs.
Develop workforce growth ladders by job type and plans for helping people of color and women move into management and business ownership positions.
Lead the collaborative development of reports that will involve gathering and analyzing grant information and data, presenting findings, and making consensus recommendations and plans for enhancing green career pathways in Portland within one year.
REQUIRED QUALIFICATIONS
Applicants Must Have:
Strong relationship building skills and experience as a networker and convener.
Exceptional skills with organizational capacity, follow-through, & ability to keep stakeholders informed at all times.
Excellent interpersonal communication, writing and editing skills, and the ability to work collaboratively with a team to produce high-quality reports.
Ability to plan for future initiatives and participate in strategic planning and development.
Demonstrated interest in the construction industry, clean energy, and/or energy efficiency sectors.
Demonstrated success of engaging people of color, women, individuals with criminal justice experience, and/or low-income residents.
Proficiency in Google Suite and Microsoft Office Word and Excel.
PREFERRED QUALIFICATION
Prior work experience with project management, research, survey development, and/or feedback analysis.
Prior work experience in the construction industry, clean energy, and/or energy efficiency sectors.
Prior work experience in communications and/or business/partnership development.
Professional certification(s) demonstrating knowledge in clean energy, energy efficiency or green building sectors (e.g. LEED Green Associate, Sustainable Homes Professional, etc.).
HOURS & COMPENSATION
Pay range is $35.00 – $39.00/hour, DOE and benefits after 30 days.
40 hours/week – 7am – 4pm.
BENEFITS
Constructing Hope offers an excellent benefit package including: fully-paid medical, dental & vision insurance. 401k with employer match
TO APPLY
Please send your resume and cover letter indicating how you meet the Minimum Qualifications listed above to: careers@constructinghope.org
Please note:  We are a drug-free program.  If you are offered the job, you will be asked to have a drug screening test or other testing procedures as necessary for completion of the hiring process.
Constructing Hope is proud to be an equal opportunity employer. We are committed to an environment that welcomes and supports diversity. We seek diversity of identity, perspective, and background in our staff, board and volunteers. We strive to reflect the diversity of our community and the population we serve. 
Constructing Hope is an EEP and Substance Free Workplace