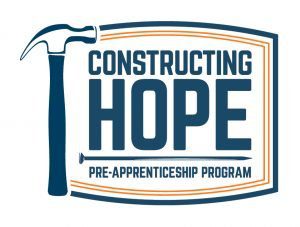 JOB DESCRIPTION
Marketing Coordinator
COMPANY OVERVIEW
Constructing Hope's mission is to rebuild the lives of people in our community by encouraging self-sufficiency through skills training and education in the construction industry. We provide no-cost, ten-week construction training programs, placement services, and career advancement support. We serve underrepresented populations, such as people coming from incarceration, and low-income adults. A youth summer camp provides skills, motivation, and construction career pathways. Constructing Hope's goals are to:
(1) Help the long-term unemployed attain sustainable careers,
(2) Increase workforce diversity,
(3) Reduce recidivism, and
(4) Meet hiring needs in the construction industry
THE POSITION
The Marketing Coordinator position is an integral part of the Constructing Hope Pre-Apprenticeship Program team and is responsible for leading marketing and awareness. Marketing efforts to support development goals in conjunction with the Director of Development and Executive Team.
ROLES & RESPONSIBILITIES
Staff lead in establishing and evaluating a

 

marketing

 

strategy and plan.

Manage relationships with marketing

 

vendors to include PR agency, designer, website maintenance and Google Grant manager.

Manage ad placements and interviews for media coverage

Manage social media – to include planning and scheduling content out for 1 – 3 months in advance, designing posts, posting and boosting as required, reporting monthly on social media reach

Manage website updates including calendar listings, Stories of Hope and other content updates and changes. Work with website maintenance company to create landing pages as needed for Google Adword campaigns and fundraising campaigns.

Coordination of quarterly e-newsletter to include gathering content, writing features and layout for Executive Team approval prior to sending each quarter.

Management of monthly Story of Hope graduate features to include interviewing graduates, writing stories, gathering photos and posting to website and social channels.

Point person for email marketing and mass emails sent through Constant Contact

Management of Constructing Hope marketing collateral needs to include review of current materials, suggested updated needs and work with designer to get created.

Work with Green Training Consortium on marketing needs.

Manage creative process for photo and video needs for Constructing Hope marketing, as well as for fundraising campaigns.
SKILLS/EXPERIENCE
Strong written and verbal communication skills
Excellent interpersonal skills for representing Constructing Hope
Time-management skills for juggling numerous time-sensitive projects simultaneously
Working knowledge of basic computer applications, program and feature is a must, with experience in graphic design being very helpful.
Associates degree, Bachelors degree preferred
Familiar with Canva
Professionalism
Experience working in or with construction trades preferred
MINIMUM QUALIFICATIONS
2 years of Marketing Experience
High School Diploma or GED
College Degree Preferred
ADDITIONAL REQUIREMENTS
Ability to pass a drug screening test and criminal background check prior to employment.
HOURS & COMPENSATION
Pay range  is $25/hour – $27/hour, depending on experience, 40 hours/week.
Application Deadline: December 1, 2021
How to Apply: Please email resume, cover letter and any references to [email protected].
Constructing Hope is proud to be an equal opportunity employer. We are committed to an environment that welcomes and supports diversity. We seek diversity of identity, perspective, and background in our staff, board and volunteers. We strive to reflect the diversity of our community and the population we serve.
Constructing Hope is an EEP and Substance Free Workplace.