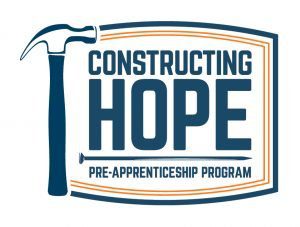 JOB DESCRIPTION
PROGRAM FACILITATOR
COMPANY OVERVIEW
Constructing Hope's mission is to rebuild the lives of people in our community by encouraging self-sufficiency through skills training and education in the construction industry. We provide no-cost, ten-week construction training programs, placement services, and career advancement support. We serve underrepresented populations, such as people coming from incarceration, and low-income adults. A youth summer camp provides skills, motivation, and construction career pathways. Constructing Hope's goals are to:
(1) Help the long-term unemployed attain sustainable careers,
(2) Increase workforce diversity,
(3) Reduce recidivism, and
(4) Meet hiring needs in the construction industry
THE POSITION
We are seeking a well-organized, detail oriented and enthusiastic team member to coordinate
with our team and industry partners to facilitate the construction education and hands-on training of our program participants.
This position reports to the Program Manager. This position is responsible for a variety of tasks pertaining to the education, support, and training of our students. This includes but is not limited to managing our hybrid learning model (virtual and in-person), facilitating the class schedule, introducing instructors for classes, teaching basic life skills, troubleshooting, and addressing technical challenges.
ABOUT
The ideal candidate will possess:
Strong technical knowledge of software platforms (primarily Microsoft Office products)
Strong communication and interpersonal skills; ability to communicate effectively
Excellent writing, spelling, grammar, and proofreading skills
Ability to be flexible and adaptable in fast-paced environment
Exceptional organizational skills with strong attention to detail
Background in teaching and/or construction is a plus
The ability to prioritize, multitask and adapt to changing deadlines
Responsibilities include:
Training and troubleshooting with students in basic computer skills using Microsoft Office 365
Outreach to industry partners in the construction community for guest instructors
Administrative functions such as administering tests, taking attendance, and updating curriculum information and materials with current best practices.
Prioritizing conflicting needs; handling matters expeditiously, proactively, and following through on projects to successful completion and meeting deadlines.
Skills:
Teaching/Training – Ability to teach classes in the classroom and virtually
Technical troubleshooting – Solve technical problems onsite and offsite while under pressure
Data Management – Data monitoring, tracking, and logging using various systems such as Microsoft products, Apricot and other systems as appropriate
Construction knowledge is a plus
MINIMUM QUALIFICATIONS
College Degree
Preferred – Four (4) years of experience in training, teaching, or leading groups
Construction experience is a plus

ADDITIONAL REQUIREMENTS
Ability to successfully pass a drug screening test and criminal background prior to employment.
HOURS & COMPENSATION
Pay range is $22/hour – $25/hour, depending on experience.
Application Deadline: June 14, 2021
How to Apply: Please send your resume and cover letter indicating how you meet the Minimum Qualifications listed above to  [email protected].
Constructing Hope is proud to be an equal opportunity employer. We are committed to an environment that welcomes and supports diversity. We seek diversity, perspective, and background in our staff, board, and volunteers. We strive to reflect the diversity of our community and populations we serve.