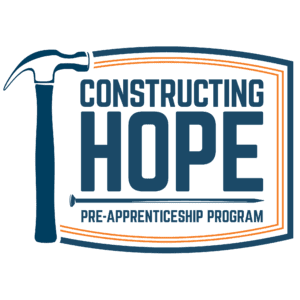 As we celebrate our 15th Anniversary as a state-certified pre-apprenticeship training program this year, we are proud of the impact our work has had in our community and in the lives of our graduates and their family members.
While we celebrate these accomplishments, we are also excited about what's ahead for Constructing Hope. Our Strategic Plan for 2022 – 2025 focuses on:
Growth in number of individuals served
Expansion of our work in green construction pathways
Preparing to train behind the walls
We invite you to take a moment to read through the plan. Our community is an integral part of our work to rebuild lives, and we are grateful for you!
With gratitude,
Pat Daniels & the Constructing Hope Team
Read Constructing Hope's 2022-2025 Strategic Plan: HERE
Location
Constructing Hope
405 NE Church St.
Portland, Oregon 97211
Phone: 503-281-1234
Fax: 503-719-7685