Career Advancement Support Services
CAREER PLACEMENT: Construction apprenticeships, pathway jobs that lead to apprenticeships, and other employment. Through construction apprenticeships our graduates secure good paying jobs in careers that can be mastered without a college degree.
CAREER RETENTION AND ADVANCEMENT SERVICES: Three years of career placement, mentorship, and supportive services.
Placements
2018
2019
2020

Placements

2018
2019
2020
Carpenters

Laborers

Sheet Metal

Roofers

Electricians

Heavy Equipment

HVAC

14

11

1

1

4

7

2

25

3

1

3

4

1

–

4

3

–

1

1

2

–

Iron Workers

Painters

Cement Mason/Bricklayer

Millwright

Plumber/Steamfitter

Teamster

Total Apprenticeships

3

–

1

–

–

1

45

3

1

3

–

2

–

46

2

–

–

–

4

–

17
* Included with pathway jobs prior to 2017; **Numbers for 2020 are reduced due to COVID. Average starting wage for placements: $21.29)
THE BUILDING EQUITY PROGRAM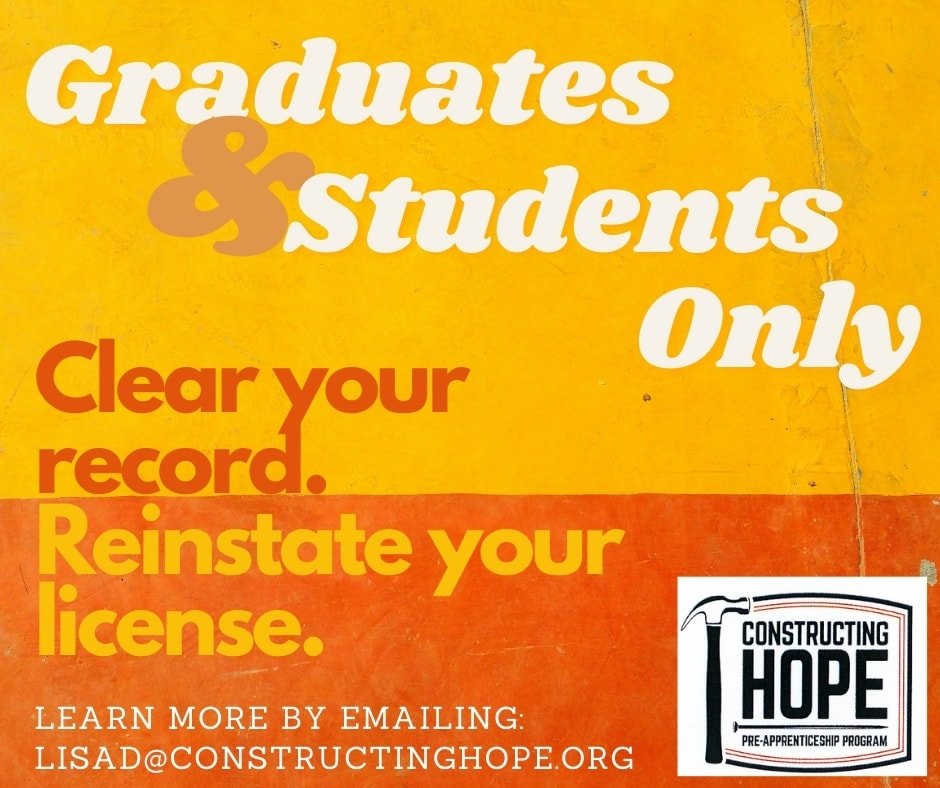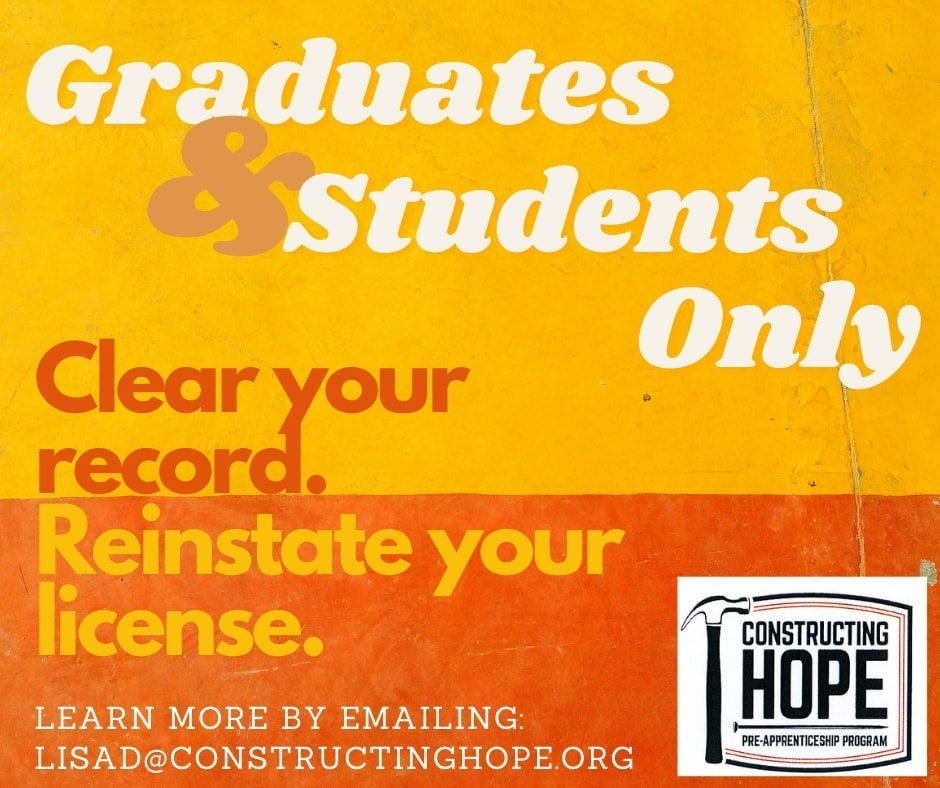 The Building Equity Program is Constructing Hope's response to the disparities our formerly incarcerated students and graduates endure in housing, employment, financial assistance, and more. The program works with current students and graduates to clear their criminal records and assist with obtaining an Oregon Drivers License (new or reinstated). The Building Equity Program partners with a network of pro bono attorneys to remove the disparities from our students' lives by preparing the necessary paperwork to set aside (expunge) their arrest and conviction records. Constructing Hope has received grant funds to help get this new program off the ground and assist with fees, not fines, associated with expungement and license obtainment.
Please note: the expungement process is a slow and complicated one. Not every charge is eligible for expungement and depending on how many charges you have on your record determines your wait period for filing the appropriate paperwork. We are here to help you navigate the process and figure out what can be and when you can file to clear what is possible from your record.
Reinstating a license is dependent upon the reason behind why it was suspended, when it was suspended, and if there are any outstanding fines. We can assist with finding the steps to work towards getting your license back.
At this time, we are only able to assist with Oregon criminal records and license reinstatements.
If you would like to learn more or want to determine your eligibility for expungement or license reinstatement, please contact Lisa Dixon at lisa[email protected].